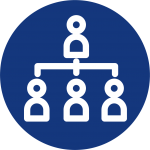 PRIME Occupational Medicine is committed to providing high-quality occupational health services whenever and wherever you need it most. Regardless of work location, PRIME physicians are equipped with the necessary expertise and resources to ensure consistent quality of the medical care and management of work-related injury or illness.
Corporate Medical Solutions delivers the following benefits:
GLOBAL MEDICAL QUALITY MANAGEMENT
PRIME's proprietary EME software system delivers a HIPAA compliant solution to easily track, in real time, the progression of medical statuses for all employee's medical evaluations and test reports. This web-based system allows PRIME professionals to provide consistent medical recommendations regardless of where medical services are rendered.
PRIME Global Solutions can provide a centralized review process to ensure that your corporate standards are achieved despite varied or remote work locations when medical or other test/services are rendered by third party medical providers.
PRIME Global Solutions has associated independent medical providers throughout the US and across the globe with our embedded partner, International SOS. All will work with PRIME to assist with your policy compliance.
With more than 25 years of proven success, PRIME's Corporate Medical Solutions will help you reduce healthcare costs, minimize lost time, decrease regulatory complications and optimize employee productivity.