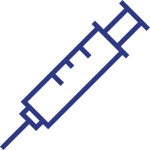 PRIME: VACCINATION SERVICES
Whether it's an annual flu shot or a travel-required vaccine, Prime Occupational Medicine's vaccination services can help keep your workforce safe and healthy with a wide range of vaccines available at most locations. Our services adhere to the best practices and guidelines issued by the Centers for Disease Control and Prevention (CDC) and other regulatory agencies.
Vaccinations available at all locations include:  Tdap (tetanus, diphtheria, pertussis), Flu (Seasonal), Hepatitis A, Hepatitis B and TwinRix.
Upon special request at select locations: IPV (polio), Meningitis, MMR (measles, mumps, rubella), Pneumonia, Typhoid, Japanese Encephalitis and Yellow Fever. *This list may not include all available vaccinations.