PRIME: DOT TESTING REGULATORY 

STANDARDS
Federal law under the Department of Transportation requires that operators of commercial motor vehicles (CMVs) receive regular physical examinations.  DOT physicals are highly regulated and designed to detect physical, mental, and emotional issues that can affect a driver's ability to safely operate a commercial vehicle.  PRIME DOT medical examiners are trained to understand regulation and are focused on preventing operators from being inappropriately disqualified.
It is required that operators and drivers have a valid DOT card which means that a CMV cannot legally operate unless they have been cleared for the road.  DOT physicals will keep your drivers FMCSA* compliant while helping ensure driver safety.
*FMCSA – Federal Motor Carrier Safety Administration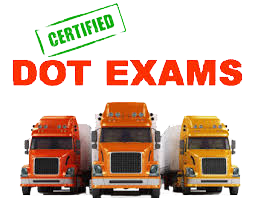 DOT Physical Requirements 
DOT PHYSICAL:

 

KEY INFORMATION
Commercial Driver Requirements
All commercial drivers of vehicles in interstate commerce with a maximum gross vehicle weight rating of over 10,000 pounds (4,536 kilograms) are required to obtain and maintain a valid Medical Examiner's Certificate (ME Certificate).
Driver Medical Certification
Drivers receive a medical certification which is normally valid for 2 years. Your medical exam will be transmitted and stored electronically in the Commercial Driver's License Information System
Self-Certification
Drivers will be required to submit a "self-certification" to their state driver's licensing agency (SDLA), to declare their intent to drive commercially in 1 of 4 possible categories.